The 2017 Daily Musings Journal Printable Editions is now available!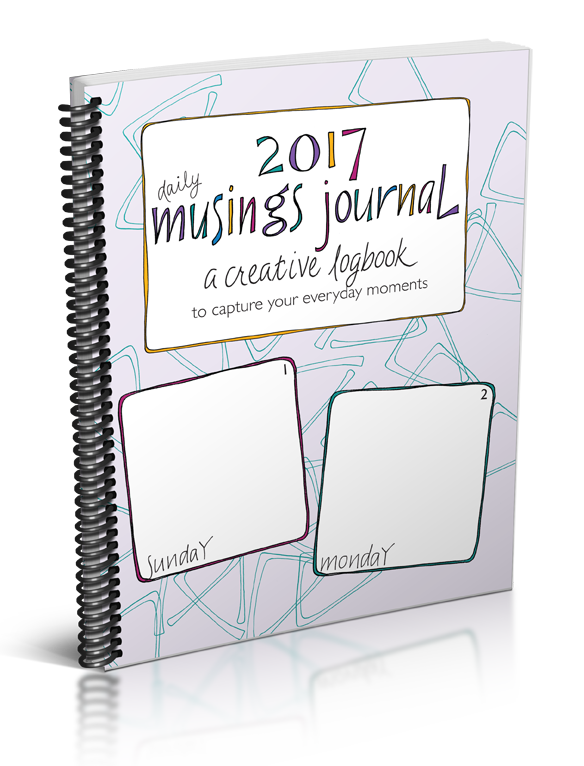 ~~~~~~~~~~~~~~
Do you want to bring some color, fun and creative play into your journaling practice? The Daily Musings Journal gives you just the right space to go on a colorful & fun musings adventure!
It offers a fun and simple format to help you capture your everyday magic moments
It is a relatively "blank canvas" with hand drawn boxes set-up in week spreads for the entire year.
If provides space to color, sketch and doodle, to add quotes, gratitudes, dreams — or whatever inspires you on that day.
I created the Daily Musings Journal from a personal practice, and this practice has evolved over the years.
It all began many years ago. I first started with day planners that I bought to track my workouts, adventures, thoughts, and feelings.
But soon these day planners began to feel restrictive, especially because they never gave me the same space for each day of the week. I almost started believing they were made for people who didn't like the weekend – and fun and play.
After I was sure I wasn't going to find the kind of journal I needed to fulfill my desire for a different kind of space, I began creating my own design, using a blank spiral bound journal I made.
I experimented with how I wanted to use the space, creating each week by hand. Creating week by week and month by month, I was perpetually behind and sloppy, so my motives for creating the Daily Musings Journal were partly selfish:
I wanted to have the entire next year ready for the adventures of the new year – before the new year started!
How the journal has evolved: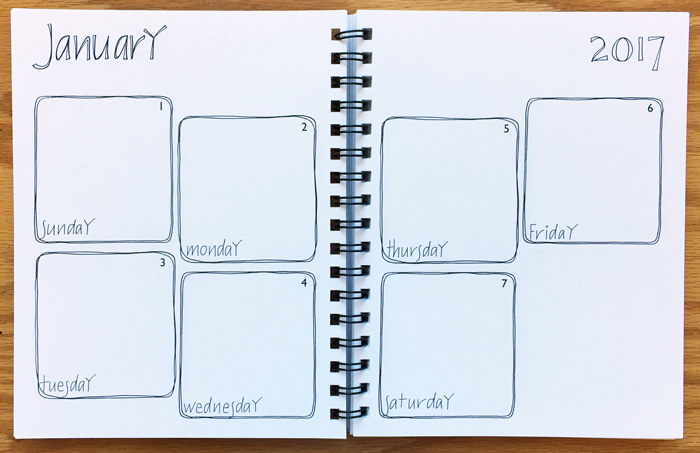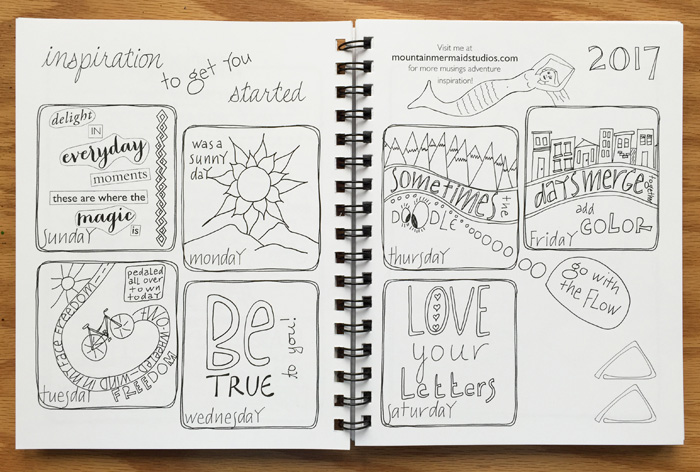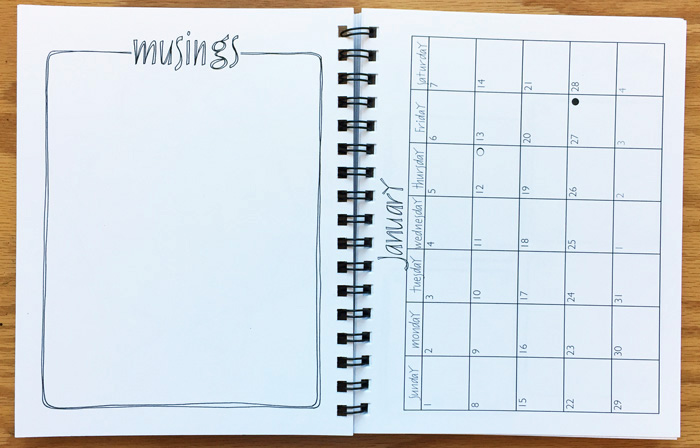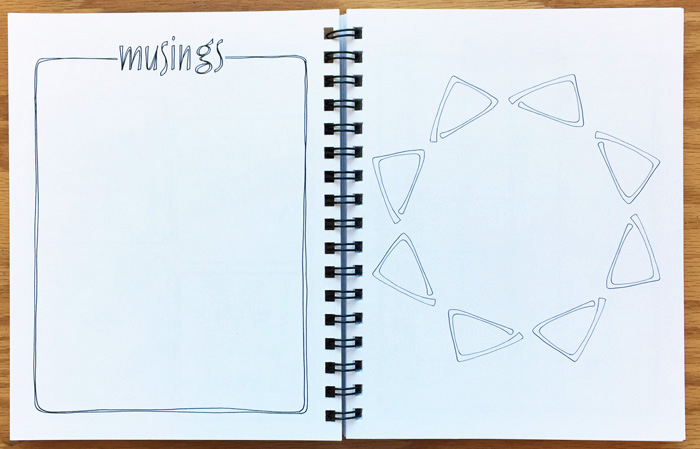 How I use my Daily Musings Journal is constantly evolving, but I've settled on a design that, at least for now, I love.
I thought, there must be others of you out there that would love to have some open, yet defined space on which to muse about your daily adventures, thoughts, feelings, gratitudes and more!
And I wasn't wrong!
I've been using the Daily Musings Journal for 3 years now…and I really do love them!!…they have been the perfect size….I love the simplicity of them…the layout….the fact that there's plenty of room for each day to jot down what I need to….and the musings page is great for quick notes of the upcoming month!!…plus plenty of room for creative doodling, having fun with color and getting ideas on paper!
terri…(proprietor of Wanderlust road in Salida Colorado)
2014 was the first year of the Daily Musings Journal and I'm happy to say that I'm not the only who loves journaling this way.
This year, even more people have already decided they want to go on a musings adventure and grabbed a copy of the 2017 Daily Musings Journal.
How about you?
Are you looking for a different kind of space for your musings — a journal that makes the practice of daily journaling simple and fun?
If yes, come on in and create your own musings adventure this year!
The Daily Musings Journal is:
A place for reflection and self-discovery
A spot to capture your memories before you forget them
A space to add color and joy to your week
A square to doodle to your heart's content
A tool for tracking your food, exercise, feelings, gratitudes, ____________(fill in your need!)
A nook to create your one sentence journal (inspired by Gretchen Rubin)
A corner to write a haiku each day, if that's your thing
A place to record your triumphs and milestones
      The list could go on…
In short, the Daily Musings Journal is the perfect companion that will bring you creativity, gratitude, self-discovery, mindfulness and all the other gifts in the art of journaling.
Once you start using the Daily Musings Journal, you won't be able to do without it anymore.
The 2017 Daily Musings Journal includes:
144 pages plus cover – 7″w x 9″h wire-o bound
Nice 80# opaque text stock for all your musings
A spread for each week of 2017 plus the last week of December 2016
A hand-drawn space for each day of each week
Spacious musings pages to begin each month and a few extra at the front and back
A month calendar for each month of 2017 with the new moon & full moon noted for each month
Enough space to add color, sketches, notes, ideas, etc
Two triangle mandala templates for you to color and embellish
A musings adventure inspiration spread
A note from me with fun ideas for your musings adventure – including several doodle icon ideas
All the lettering that looks hand-drawn (the words, along with the boxes) are… well… hand-drawn! By yours truly, Lisa – the mountain mermaid.
The clean black and white design lends itself – begs, really, for color! Thin line markers and colored pencils work really well. It's also fun to use a plain old lead pencil to create a lovely monochromatic look.
If this journal sounds, feels and looks like something that will give you fun space to muse and create in grab your copy today!
pssst…these journals make a  great gift for that creative soul in your life, too!
And this year I've created money saving bundles when you buy multiple journals
Order Yours Today! (All 2017 Journals Now 40% off)
Quantity 1 —

$33.95

now $24.20
(incl $8.00 S&H – U.S. only)

2017 Printable Edition

$26.00

now $15.60

Quantity 2 —

$64.50

now $48.00
(incl $14.50 S&H – U.S. only)
Quantity 3 —

$88.00

now $56.00
(incl $16.00 S&H – U.S. only)

If you'd like to purchase a quantity larger than three, please contact me directly at lisa (at) mountainmermaidstudios (dot) com.
Shipping from three to six within the United States is the same: $16. I'm happy to work out the appropriate shipping for whatever quantity you'd like, and get the journals shipped right out to you! Thank you!
FOR MY CANADIAN and other INTERNATIONAL FRIENDS!
CANADA
Quantity 1 —

$41.95

now $32.20


(incl $16.00 S&H – CAN)

OTHER INTERNATIONAL
Quantity 1 —

$47.95

now $38.20
(incl $22.00 S&H – Other Int'l)
I know shipping is a bit prohibitive, and if you want to order a larger quantity I can check on shipping and hopefully a multiple journal order will make it a bit more reasonable. Thank you! :)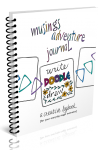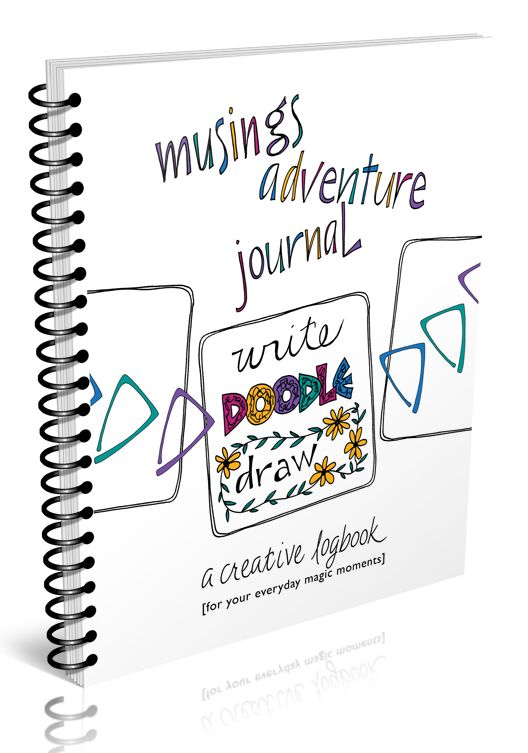 ~~~~~~~~~~~~~~~~
There is also an undated version of the popular Daily Musings Journal. If you love this format, and having dates feels intimidating check out all the details on the Musings Adventure Journal here!
~~~~~~~~~~~~~~~~
Love for the Daily Musings Journal
I bought this journal before the end of last year, and was so intrigued I gave it as gifts, as well, to a dear friend and my wonderful sister (for her birthday). I love it, and the way I'm encouraged to create right on the pages! I still write in another journal, too, right now, as I'm truly a "journal junkie"… already have signed up to be alerted when next year's is out! This is magical!
~ Katey S
~~~~~~~~~~~~~~~~
I am so excited to begin using my 2016 Musings Journal! The possibilities are endless because of the way Lisa designed and created this journal. I LOVE the size-not too big/not too small, and I love the spiral binding (it can take a LOT of whatever i want to add in, and can be folded back on itself to take up less space on my desk. It really is a blank canvas waiting for whatever inspires me at the moment. I know I will love using this journal to document my journey in 2016. I plan to do a variety of things in my Musings Journal, stamping, washi tape, stickers, doodles, collage, and journaling. I've used planners, diaries, and journals for several years and I love that I can grab one off the shelf, years later, and flip through it. Making the time, even a few minutes each day to do something creative has become a part of my life. I also like having the moon cycles on each monthly calendar. This is a journal/planner you can't go wrong with! I highly recommend it, Lisa has done an amazing job creating this.
~ Jenny P
~~~~~~~~~~~~~~~~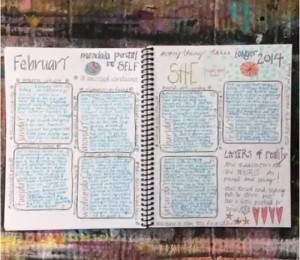 The last thing I do every night when I go to bed is to record the day's goings on in my journal. Sometimes I'll be marking on some extraordinary activity or event I've been grateful for and other times it's as mundane as the weather and what I had to eat that day. Its my simple, no-brainer way of tracking time and feelings and has been my daily practice for over four years – and Lisa's Daily Musings Journal is the perfect vehicle for it. There's just enough space to record my entry without feeling it's a burden, and plenty of space to get creative with glitter pens, if I've the urge! Honestly, I can't imagine using a different set up next year – my 2014 journal is such a treasure.
~ Julie Gibbons, Artful Self Discovery Guide
Click here to check out Julie's Vine video!
~~~~~~~~~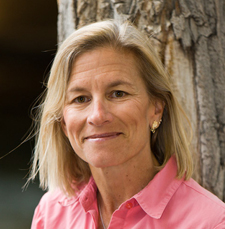 Lisa, aka the mountain mermaid, is a creative, independent spirit whose motto in life is Create, Play, Thrive. She lives in the Rocky Mountains of Colorado. When she's not out exploring the trails she can often be seen pedaling around town with her colorful bag of journaling supplies. Embracing her creative life is an ongoing adventure, a journey that she loves and trusts more each year – and hopes to inspire others to do the same. To help inspire others she has created the Daily Musings Journal — which provides a space for simple daily creative journaling practice. The Daily Musings Journal was born from her need for the perfect space her own personal practice. She also provides innovative business support and graphic design services for passionate creative entrepreneurs.
Thank you for being on this journey with me!